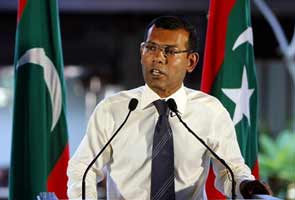 In a
series of events
which seem all too familiar these days, President Mohamed Nasheed, of the Maldives,
has resigned
. Vice-President Mohammed Waheed Hassan has been selected by the military to take power, and will serve until the regularly scheduled elections in 2013. President Nasheed, elected in 2009, had been the first democratically elected president in the history of the Maldives.
Disputes have been growing for some time between the ruling party and the opposition, but since January they've increased until they exploded recently.
In 2009 defamation was decriminalized by the government, ending a history of arresting anyone who criticized the government. But in early January the government asked police to begin investigations into opposition leaders who had been accusing the government of undermining the country's Islamic faith. Instead of investigating the opposition, the police arrested them. The ruling party, the Maldavian Democratic Party, started a legal policy that forbade "baseless allegations" against it. Clearly a return to the old ways.
In mid January, the Chief Judge of the Criminal Court, Abdulla Mohamed, ruled that one of the detentions by police was illegal, and orderd the person released from police custody. In response the police asked the Maldives military to assist in apprehending the judge. Since January 16, the judge has been in military custody. That is what ignited the current protests, which have continued since. Many of the opposition parties and prominent lawyers have cited the military's act as unlawful, pointing out that the military has no right to detain citizens. At this time he still has not been charged with anything, prompting the United Nations and Amnesty International to ask for his release.
On Monday, the streets became filled with violence as what are being described as thugs from both sides began street fights, rioting, and looting. A mutiny of police officers joined the opposition and then stormed government buildings and the state TV station, demanding that the president resign. At that point the military went on the streets to "maintain order". Immediately after resigning Nasheed was taken into military custody.
It is unclear whether the resignation will have any effect on the protests. The military and Hassan have made no move to release Judge Mohamed, and have not stated whether they will do so. The possible coup could make things worse or better. Only time will tell how it will go for the nation of islands.