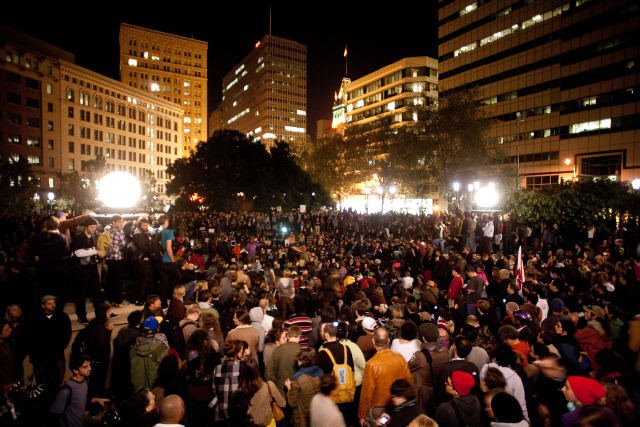 Occupy Oakland
went completely violent
last night
and brought out nothing but a rioting mob. They began by attempting to break into the Henry Kaiser Convention Center, tearing down fences and destroying equipment. When asked by police to disperse they responded by attacking police with
bottles, metal pipes, rocks, spray cans, fire, improvised explosive devices, and at least one bicycle. Several police officers were injured in the assault. Occupiers continued to break into the Oakland City Hall and a YMCA building, causing thousands of dollars in damage and stealing US flags to burn on the steps.
In defense of the city, and their own lives, police were forced to use tear gas, pepper spray, batons, flash bangs, rubber bullets, and bean bag guns. At least 400 occupiers were arrested over the course of Saturday alone.
Ironically most of the occupiers are not even from Oakland, but from all over the country. They consist mostly of anarchists and communists who are using the protests to promote their own agendas, cause chaos, and simply destroy things. Occupy Oakland has also threatened to attempt closing the airport as well as the shipyards, again. In ridiculous attempts, the occupiers have tried blaming the city and the police for their own actions last night. They have already filed law suits, claiming that they were peacefully protesting when attacked.
"Their intent is to commit vandalism and cause problems," interim police Chief Howard Jordan said of the protesters. "Their intent is not to be peaceful."
Oakland Mayor Jean Quan is seeking "stay away" orders against occupiers that have been arrested repeatedly. These would basically act as restraining orders, making it illegal for the repeat offenders to enter into Oakland city limits. Police were kept so busy with the violence that they couldn't respond to over 200 other calls.
This even despite help coming throughout the day from the Alameda County Sheriff's Office and other city's police forces, including Fremont, Hayward, Berkeley, Pleasanton, Union City and Newark.