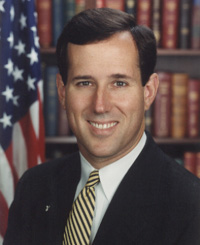 Many people have suddenly had the name forced upon them, with his near win in Iowa. Losing to Mitt Romney by eight votes, when he wasn't even considered in the race by many is a huge thing, if he can repeat it anyways. So now let's go over him a bit.
For those that don't know he's a former Representative and Senator from Pennsylvania. He lost huge there after serving for over a decade. Known for his Catholic ultra conservative social policies, he is extremely pro-life and very big on defending traditional marriage. He's called the most conservative of the candidates by his supporters,
but that's not really what history shows
.
1)
Supported bills that reduced freedom and increased the size of government. He very likely would have voted for
NDAA
.
2)
Does not support a fair flat tax, instead he states set tax amounts that are the highest amongst any of the Republican candidates. Yet at the same time desires to set up, what would actually be, a protectionist market in the United States. (Yes that link was from his own site even)
3)
Has fought to keep
earmarks
as part of the government, as if senators and representatives are entitled to them. Even attacking Senator Jim DeMint for fighting against earmarks.
4)
Voted to keep the 1930s-era Davis-Bacon Act "that forces taxpayers to pay union wages in government-funded construction and gives Big Labor an unfair advantage over non-union companies and workers".
5)
Stopped the National Right to Work Act of 1995 from being voted on, by joining Democrats in a filibuster.
6)
Supported those who voted for Obamacare.
7)
States he's pro-life, yet campaigned for a liberal pro-abortion Republican called Specter (who later ran to the Democrat side), against a conservative pro-life Republican called Toomey.
And O could we go on. Erick Erickson was totally right to call him a
"pro-life statist"
. That's what he is at best. Even with the tiniest amount of digging Santorum does not at all appear to be what he claims.
So I say NO to Santorum. I want someone who isn't quite so liberal as my Republican nominee.
This was also posted on
Landmark Report
.